2018 Wrap Up: Finishing on a high in December
31 December 2018
As the year draws to a close, the Australian Olympians have finished off 2018 with a bang, in a strong show of what's to come for 2019.
In December, the Aussie Dolphins Swim Team claimed 12 medals at the 2018 FINA World Swimming Short Course Championships in Hangzhou, with young superstar Ariarne Titmus, a standout of the competition.
The 17-year-old took out two individual gold (400m freestyle, 200m freestyle) and one team bronze (4x200m freestyle relay) and set an Oceania and Australian record in the process.
Titmus said of her new 200m freestyle records,
"I have been working on my speed, so I am glad it paid off. I knew the back end was my strength, so I just tried to play to that and it worked.
"It is my first individual world title, so it is a good stepping stone to next year with World Championships and then Olympics after that."
In basketball, the Aussie Boomers booked their 2019 FIBA World Cup ticket with a 29-point victory over Iran, making them the first team in the Asian qualifiers to secure their spot.
The Aussie team maintained their undefeated home record, later taking down Qatar in the final match of the 2019 FIBA World Cup qualifiers, 110-59.
Australia's sailors also dominated in the water, claiming wins across most of the Olympic classes at Sail Melbourne.
Rio 2016 Olympic silver medallists Mat Belcher and Will Ryan continued their winning series on home waters and took home the win in the 470 class, winning all but one race of the seven race series.
2018 Laser World Championships silver medallist Matt Wearn took out the laser class, with Aussies featuring on the podium nine times throughout the competition.
Rio 2016 sprint paddlers Alyssa Bull and Riley Fitzsimmons kept the water wins coming, taking out the women's and men's World Surf Ski titles in the World Inter-Club Open Ocean events at the 2018 Lifesaving World Championships.
"I was really stoked to come away with the win. Coming back to surf racing is the fun side of my sport career now, so it's been great to get out there. The race was good, long and flat conditions, a kayaker's dream. But all the girls are paddling so fast and I didn't expect to win. I was just glad to be on the beach and having a good time in between work," Bull said.
While Fitzsimmons said of his win,
"I am super happy with how the race went. I had a plan going into it and everyone knew that with the conditions whoever was first to the cans was going to be very hard to beat on the way in.
"All of us kayakers started out in Surf Lifesaving so we always love going and having a race. It's also nice to give back to our surf clubs. I know I definitely wouldn't have gone to the Olympics without the help of Avoca Surf Lifesaving Club."
In cycling, Stephanie Morton surged to dual gold in the sprint and keirin, reigning world champion Matthew Glaetzer grabbed sprint silver, while Amy Cure and Annette Edmondson won the Madison silver at the Track World Cup in London.
"I am delighted to finish my World Cup season with another win in the sprint," Morton said.
"The women's sprint depth is great at the moment; the racing has really stepped up."
"It has been a huge couple of months of racing, so it is nice to finish on a high," Morton said. "First keirin gold for me at a World Cup - so that's really special.
"It has been a really successful season and I will definitely soak it up and use that as motivation. I'm now looking forward to getting in some more good training back in Adelaide and getting ready for that final push into the World Championships," she finished.
The Aussie team later backed it up at the third round of the UCI Track World Cup in Berlin, Germany, taking home another four gold and two silver medals.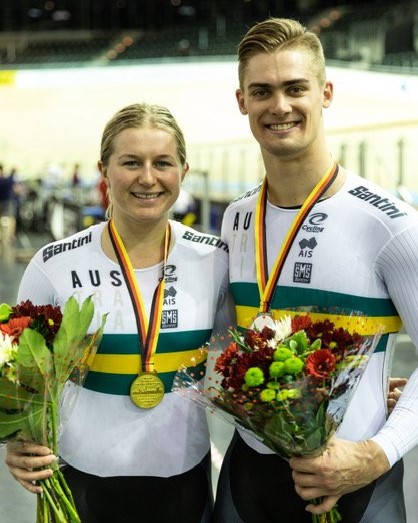 For hockey, the Kookaburras claimed bronze at the 2018 FIH Men's Hockey World Cup with an emphatic 8-1 victory over England in Bhubaneswar, India.
The top-ranked Aussie's headed home from the World Cup with their fifth bronze medal, but their first since 1994, having lifted the trophy in both 2010 and 2014.
After the game, hat-trick scorer Tom Craig said,
"It's about the process. We take every game as it comes.
"We put the same amount of effort into every team. It leads to good results so we're happy."
The Aussie men dominated all key statistics with 58-42 per cent possession along with 20-12 circle penetrations, 12-9 shots and 5-3 penalty corners. Australia converted three of their five penalty corners.
Rio Olympic Modern Pentathlete, Max Esposito, made a great comeback from injury to finish off the year.
In only his second international event of 2018, the 21-year-old took out the Memorial Zbigniew Majewski event in Poland.
Esposito finished 10th at the same international indoor competition in 2017, but after a dominant swim this time around, controlled the field through to completion.
In the colder climate, the Aussie team continued flying the flag and bagging some winter medals, with Scotty James and his Superpipe Dew Tour gold, first cab off the rank.
James scored a whopping 93.33 on his first run, a score that remained untouchable for the rest of the day and secured him first place.
After finishing fourth at PyeongChang 2018, mogul skiing's Jakara Anthony backed up Australia's dominance in the snow, claiming her first World Cup podium in Thaiwoo, China.
Anthony easily qualified for the first final in second place with a score of 83.74 in the qualification round. She continued her strong performance a few hours later to top the first final with a score of 82.71, before securing the silver medal in the 6-athlete Super Final with a score of 82.42.
Equestrian's triple Olympian, Edwina Tops-Alexander also had a stellar December, winning a hat-trick of success over three weeks.
It was three first place finishes at Paris, Spain and Prague that cemented Tops-Alexander an Aussie champion.
"I couldn't see the results anywhere, so I really didn't think I had won actually, I thought the crowd was just happy I finished", Tops-Alexander said of her most recent victory in Prague at the Longines Global Champions Tour Super Grand Prix.
And to round out the year, the AIS ASPA Awards took place, recognising the outstanding athletes of 2018.
Jessica Fox was named Female Athlete of the Year for her dominant 2018, in which she won both the K1 and C1 gold at the Canoe Slalom World Championships.
"It's a massive honour and I'm just truly grateful," Fox said.           
"I'm so thankful to AIS, Sport Australia and everyone who's been supporting me from my beginnings as a 12-year old to my most successful year ever. It's been an amazing year and it was great to be in that room and celebrate with so many awesome Australian athletes."
In a phenomenal family win, mum Myriam Fox took out Coach of the Year, while cyclist Rohan Dennis took out Male Athlete of the Year following his Time Trial World Championship, the first time an Australian has donned the rainbow stripes as world champion on the road since Cadel Evans in 2009.
Cycling Australia won High Performance Team of the Year while the Kookaburras were named Team of the Year.
Paralympians Kurt Fearnley and Simon Patmore also took out awards, winning Best Sporting Moment and Para-Performance of the Year respectively.
Liana Buratti
olympics.com.au