2018 Wrap Up: June honours and triumphs
18 December 2018
Half way through 2018 and your Aussie athletes continued kicking goals, with June full of medals, honours, world firsts, a deadly fun run and the end of an era for a winter Olympian.
World Champ Jessica Fox kicked off her season with double gold, taking out both the C1 and K1 titles at the first 2018 Canoe Kayak World Cup.
"I'm really pleased with my K1 races, second in the heats, first in the semis, and then to back that up with a win is awesome," Fox said.
Of her C1 gold medal run, Fox said she was inspired by the noise of the slalom fans as she made her way down the Liptovsky course.
"I could hear it at the start, I could hear it in the middle, I could hear the Aussies and the crowd," she said.
The Australian women's Rugby Seven's Team added 2018 Sevens World Series Champions to their resumes, for the second time.
It was a tight battle at the last World Series competition in Paris, with the Aussie women going down to New Zealand in the Cup Final but winning the overall title on points.
The Australian team came in at 92 points overall, while New Zealand fell short on 90 and third place, France came in at 68.
Co-Captain Charlotte Caslick said of the World Title victory,
"We can really pride ourselves on the consistency we've had this year, we lost a few big names throughout the season, had a coaching change but the girls all stuck strong and we gained a lot of experience throughout the season."
In fencing, the Men's Foil Team made history, reaching the podium at the Asian Zone Championships, the first time at that level.
Australian National Foil Coach, Antonio Signorello said it was a significant milestone for the sport.
"The guys' performance is meaningful considering four of the Asian teams are technically in the top eight in the world and that we are the only amateur team among a field of professionals," he said.
Australian Fencing Federation President Evelyn Halls was equally impressed.
"Just as important as their bronze medal is how they acquitted themselves in their semi-final against the Koreans, who are ranked fifth in the world," she said.
"This historic result is a consequence of the sustained effort the men's foilists have put in over a number of years and particularly during the last 12 months," Ms Halls said.
It was the end of an era for one of Australia's most decorated Winter Olympians, with aerial skier David Morris hanging up the skis.
 After three Olympic Games, 44 World Cups and three World Cup titles the Olympic silver medallist called time on his 15-year career, leaving supporters with some words of wisdom.
"Remember - it isn't about winning, but what you do with your time. Success isn't measured in medals but your impact in the sport and on other people."
June 23 marked World Olympic Day, and what better way to celebrate than by having Rio 2016 champion, Chloe Esposito take out the Modern Pentathlon World Cup in Astana.
Esposito's victory came off the back of her comeback success at the Pentathlon World Cup Kecskemet in May, and the 26-year-old was thrilled with a performance that promoted her to No.2 in the world rankings.
A team of ten Australian Olympians joined more than 150 Indigenous runners from across Australia for a fun run and relay around the base of Uluru.
Five Indigenous Olympians heeded the call – Kyle Vander-Kuyp (athletics - hurdles), Brad Hore (boxing), Nathan Thomas (water polo), Josh Ross (athletics - sprinting) and Baeden Choppy (hockey), joining forces with fellow Olympians Shelley Watts (boxing) and the PyeongChang 2018 bobsleigh team of Lucas Mata, David Mari, Hayden Smith and Lachlan Reidy to run around the rock.
"The more you make good choices, you get that ripple effect. We need healthy, strong young people in our Indigenous communities. We need leaders," Vander-Kuyp said
"For Indigenous people, there's something special about Uluru, even if you are not from this country," he continued.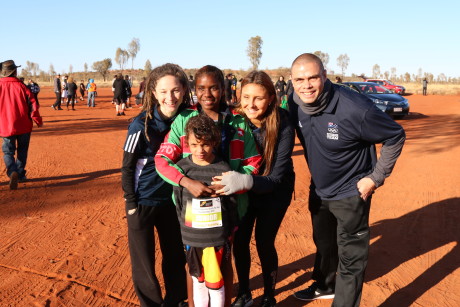 Australia counted 100 days to go until the Buenos Aires Youth Olympic Games, with sports being confirmed and first athletes being selected.
Several Olympians were celebrated at the Queen's Birthday Honours, including the legendary Dawn Fraser who received a Companion of the Order of Australia.
Olympic gold medallists Lynn McKenzie (OAM) and John Cuneo (OAM) also received honours, along with rowing coach Lyall McCarthy (OAM), former Hockey Australia President David Hatt (AM), former Chair of the Prime Minister's Olympic Dinner Organising Committee, Max Beck (AO) and AOC Vice President, Helen Brownlee.
Liana Buratti
olympics.com.au