Weekend Wrap - Trophies, awards, bronze medals and retirements
5 November 2018
AOC: Over the weekend, Australia added multiple medals and an international title to its 2018 collection with tennis, skateboarding, softball and basketball in the mix while canoe/kayak and rowing honoured their best and brightest.
Ash Barty claimed the tennis WTA Elite Trophy, making this her third WTA title and skyrocketing her 2017 ranking from 325th to 15th.   
Barty returned from a two-year hiatus to pick up the Malaysian Open title in March of 2017, before also taking out the Nottingham Open in June of this year.
Over at the Paddle Australia Awards, dual Olympian and nine-time world champion Jess Fox was presented with both the Paddler of the Year and President's Awards for her incredible season. 
Fox's mum, Myriam took out Coach of the Year, while Youth Olympian Jenaya Massie claimed the popular People's Choice award. 
Dual Olympic kayaker Steve Bird also announced his retirement from elite sport over the weekend. 
Youth Olympic bronze medallist Cormac Kennedy-Leverett claimed the Pathways Athlete of the Year. 
Olympic gold-medallist Kim Brennan also officially announced her retirement from rowing. 
With skateboarding to make its Olympic debut at Tokyo 2020, up and coming Olympic hopefuls had a chance to compare themselves against the world's best at the inaugural Park Skateboarding World Championships in Nanjing China. 126 skaters from 27 countries competed for a shot at the very first world champs title. 
Aussie teen Poppy Starr Olsen claimed bronze for the women and Keegan Palmer followed up for the men, making it double-bronze for Australia. 
"Skating in Nanjing was the best! Having so many other Aussies there competing and cheering me on was such a great feeling. 
"My goal was to finish in the top 8, so I was stoked."
With softball being re-added to the Olympic Programme at Tokyo 2020, the Women's Aussie Spirit also made their Olympic intentions known, claiming a bronze medal of their own at the Japan Cup. 
So far, only Japan and USA have sealed their return to the Olympic Games, while Australia faces an important year in 2019, Iooking to take out the Asia/Oceania qualifying event to secure their Olympic berth. 
After a tough one-point loss to Korea in the group stage, the Gems came out firing for their second meeting during the bronze medal match, exacting revenge and sealing the deal with a 75-58 victory. 
Their performance in these championships means they have now earned qualification for the 2019 Under-19 World Cup, which will take place in Thailand in July.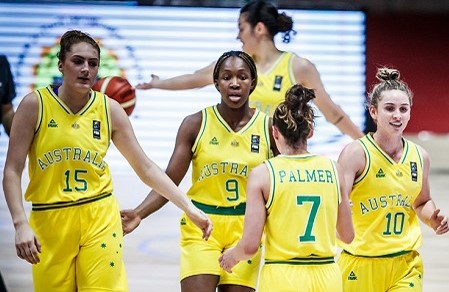 Jake Wallwork claimed gold for Australia in the UCI BMX Freestyle World Cup in China, after initially qualifying fourth.
Dual Olympian, three-time BMX and five-time Mountain Bike world champion, Caroline Buchanan also made her BMX Freestyle debut at the same event. 
The 28-year old qualified in fourth place, before competing in the finals and placing ninth.
Closer to home, Olympic triathlete Ash Gentle took out her sixth Noosa Triathlon win, with Natalie Van Coevorden in second and Radka Vodickova in third.
Aaron Royle claimed his third Noosa title, with Max Neumann in second and Ryan Bailie coming in third.
Liana Buratti
olympics.com.au